Dec 27 2008 - 10:24pm
by nina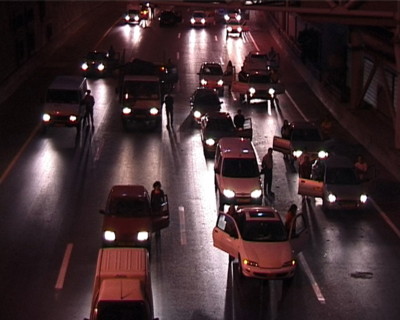 It was misty and very slightly drizzly today, but not too cold or uncomfortable.
I went to PS1, there was an exhibition by an israeli artist, Yael Bartana. One video was of a busy highway from above at night, called "Trembling Time". At one point all the cars stop, people get out of there cars, there's a siren, the people listen. Then they get back in there cars and drive on. Its a commemorative moment of silence the nation shares every year for soldiers in the 6 day war, in 1967. There was some editing I didn't like in the video, but I lived the feeling of it. It made me think of standing in the dark, filming you kneeling in the phone booths. Same kind of quiet reverence, haunting and genuine.
Afterwards we ate at a diner next to the museum. I think they were in the process of remodeling, but it looked like a film set. Half classic pink american diner, half chip board and electrical wires hanging out the walls. I thought it might be someones art.